Wednesday 18 October 2017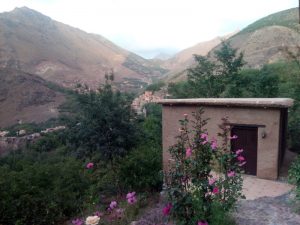 Who'd have thought it? That leading a week's yoga retreat* in Morocco, teaching five hours of yoga per day, with barely a fifth of the preparation time that I'd have liked, would leave me, yes, tired, but full of joy and a steady and enduring mountain energy. This was my home for a week, a little hut in the High Atlas mountains of Morocco. I shared it with my friend Nicola Mills, who was the perfect roomie, preparing my morning drinks and helping out whenever I needed it.
The Kasbah du Toubkhal is amazing. A Berber hospitality centre nestled high in the Imlil valley, surrounded by mountains and in sight of the highest peak in north Africa, Jebl Toubkhal. It couldn't be more beautiful.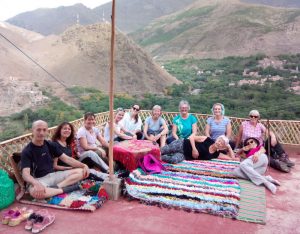 But it wasn't just that. What made this week really special were the people. Our hosts, all Berbers, were delightful, every member of staff smiley and honestly eager to help. And our group. Wow, what a group. An unlikely mix, perhaps, of yoga teachers, novices, French and English of all ages, and (lest we forget the Cranbury) a Californian pastor.
Everyone brought something to the group and together they gave me the support I needed to lead the retreat at what could have been a cripplingly difficult time.  I feel lucky to have had this experience and, instead of being sad that it is over, I feel it has permeated into my very cells, infusing me with the same rosy glow that washed over the mountains morning and evening. Until we meet again. Inshallah.
*The retreat was organised by Roro Retreats, who organise yoga holidays in Morocco, Spain and beyond.
Filed under: Happy Coulson
Like this post? Subscribe to my RSS feed and get loads more!