Stages / Events
Retraite de Yoga en Montagne avec Kate Coulson
Du jeudi 26 au lundi 30 mai 2022
Santosha Yoga Retreat Centre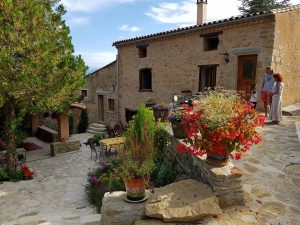 380€ par personne en chambres partagées
10 élèves maximum
En français
45 minutes sud de Carcassonne, Santosha Yoga Retreat Centre est blotti au pied des Pyrénées et le studio de yoga donne sur les vignes et les montagnes. Les chambres partagées sont conçues pour vous laisser d'espace, et chaque pièce dispose de sa propre salle de bain. Les terrasses et le jardin, la vaste campagne et les petits sentiers favorisent un espace pour la contemplation individuelle.
Inclus :
*Yoga et méditation
*Découverte gikong
*Balades guidées
*Pension complète en chambres partagées
*Repas végans ou végéteriens
En plus :
Soins de massage avec notre hôtesse, Gillian Rice-Duncan, masseuse kinésithérapeutique, praticienne en aromathérapie et professeur de Hatha Yoga – 50€/heure
Les avis des stagiares 2019: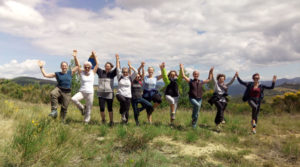 "Située dans un joli petit village entouré de vues panoramiques, c'est une maison de haute confort gérée par un couple très accueillant et sympa. Très propre partout et décoré avec plein de petits détails harmonieux."
"J'ai appris à m écouter, à méditer, à pratiquer un yoga qui me correspondait. J'ai appris à écouter les autres sans jugement, à respirer et à partager sans crainte. Au final, c'était difficile de quitter cet endroit, cette espace de vie où l'on prend soin de soi."
"Bonne humeur, rires, émotions, ont ponctué ces quelques jours et les séances de yoga et de méditation ont su réveiller nos énergies. L'on repart, plus fort dans son cœur et dans sa tête avec une forte envie de garder cette impulsion, de partager ses émotions et de dire Merci à la Vie."
"Quatre  jours de convivialité, éducation, relaxation et en plus on a très bien mangé, tout végan. A recommander et à refaire."
Réservez maintenant sur happycoulson@orange.fr 
---
Coping in Crisis with Yoga and Conscious Cuisine
Domaine de Hongrie, Lupiac
With Kate Coulson and Louisa Hallewell
*Date to be confirmed*
*Taught in English*
*Maximum 10 places*
Need some radical self-care? Join us on this culinary yoga retreat to truly nourish your body and soul. Take a few days away from the stresses of normal life to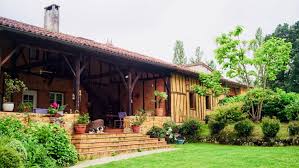 really take care of you. You'll be amazed at the difference it can make.
The retreat takes place at the Domaine de Hongrie in Lupiac. Arrive from 16h on Thursday 16 September for tea and homemade cakes and leave by 16h on Monday 20 September.
What to expect:
*Morning and afternoon yoga with Kate Coulson
*Vegetarian food and cooking demos by Louisa Hallewell
*Massage with Paula Koning-Jasper (optional extra)
*Full and exclusive use of the Domaine de Hongrie: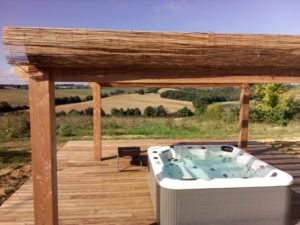 Kitchen, dining room and library in the main house
Gardens with ponds and seating areas
Yoga deck with amazing views
Jacuzzi and sauna
Treatment room
Yoga studio
400€ twin room, shared bathroom
500€ twin room, ensuite bathroom
600€ single room, ensuite bathroom
(To keep costs low, we will be taking our own bedding)
To be notified of future dates, email happycoulson@orange.fr