Cours individuels / Private sessions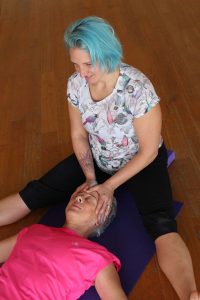 Séances Individuels en Yoga Thérapeutique
Le Yoga Thérapeutique utilise le yoga pour soulager des problèmes du corps (blessures, posture) et du mental (angoisse, dépression).
Où? Dans mon studio de yoga à Lahitte-Toupière. Si vous ne pouvez pas vous déplacer, il y a aussi la possibilité d'en faire chez vous.
Quand? Envoyez un email pour voir la disponibilité
Combien? 50€ la séance de 90 minutes, y compris les frais de déplacement jusqu'à 10km de Lahitte-Toupière (chaque km de plus à 0,50€/km)
Kate email: happycoulson@orange.fr
Tel: 07  86 63 07 79
————————————————————————————————
Private Yoga Therapy Sessions
Yoga Therapy uses yoga to address issues arising in the body and mind, including injuries, postural issues, depression and anxiety.
Where?   In my yoga studo at Lahitte-Toupière. Possibility to come to you if you have mobility issues.
When?   Please email to discuss availability
How much?   50€ for 90-minute session, including travel up to 10km (extra kms charged at 0,50€/km)
Email Kate: happycoulson@orange.fr
Tel: 07 86 63 07 79