Cours individuels / Private sessions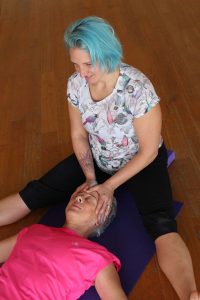 Séances individuels en Yoga Thérapeutique
Le Yoga Thérapeutique utilise le yoga pour soulager des problèmes du corps (blessures, posture) et de la tête.
Où?  Chez vous. Il faut un endroit chaud, calme et propre
Quand? Envoyez un email pour voir la disponibilité
Combien? 50€ la première consultation (90 minutes), y compris un plan et des frais de déplacement jusqu'à 10km de Lahitte-Toupière (chaque km de plus à 0,50€/km). Puis 40€ par séance
Kate email: happycoulson@orange.fr
Tel: 05.62.38.42.33/07.86.63.07.79
————————————————————————————————
Private Yoga Therapy sessions
Yoga Therapy uses yoga to address issues arising in the body and mind, including injuries, postural issues, depression and anxiety.
Where?   In your home
What do I need?   A warm, quiet and clean space big enough for a yoga mat
When?   Please email to discuss availability
How much?   50€ for an initial consultation (90 minutes), including a personal plan and travel up to 10km from Lahitte-Toupière (extra kms charged at 0,50€/km). Then 40€ per session 
Email Kate: happycoulson@orange.fr
Tel: 05.62.38.42.33/07.86.63.07.79