Tuesday 27 November 2018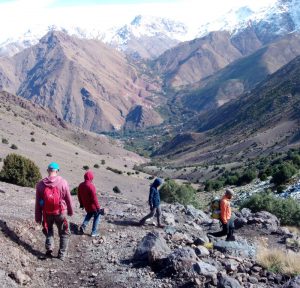 For the past six years, moving our family to rural France to start a new life has been adventure enough. But this year we all felt ready for a new challenge so we took the kids on their first proper trekking holiday. Last year, I taught a yoga and walking retreat in the Atlas mountains in Morocco and it was so amazing that we decided to have a family holiday there in the week before I taught this year's retreat.
Well, I thought it was beautiful last year, but last year we didn't have snow or the autumn colours. And we never walked for long enough to get out of the Imlil valley. This time, after a couple of nights at the wonderful Kasbah du Toubkhal, we embarked upon a four-day trek that took us out of the valley and around in a loop to come back over the other side. Chris and I have always loved trekking. There is nothing like walking through incredible natural beauty to get to your next resting place. We have walked a lot with the children around where we live and in the Pyrénées, but this was their first full-on adventure.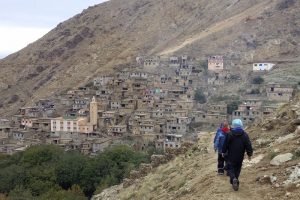 We walked for up to six hours a day and slept in isolated villages, in very basic accommodation, sometimes without even a fire to keep us warm. We slept fully clothed and faced the usual challenges of inclement weather, treacherous paths, blisters and tired legs. But the children rose to every occasion and we all absolutely LOVED IT. We particularly enjoyed walking through the remote villages and seeing how people live in this extreme environment. Tana said: "Mum, I thought these people were poor but now I see that they have everything they need". We are now planning next year's adventure, trekking in the Pyrénées with a donkey…
Filed under: Happy Coulson
Like this post? Subscribe to my RSS feed and get loads more!