Tuesday 19 November 2013
November is our big birthday month. Mine, Tana's and Chris' all arrive within 11 days. Been thinking about the best birthday presents we have ever got each other (in the order I thought of them).
1) Chris 40th – bright blue bass guitar (from the whole family). He's always wanted to learn.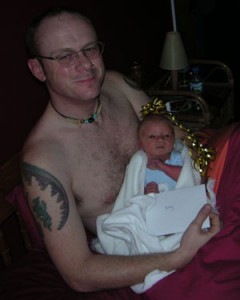 2) Me 20-something (can't remember which) – huge shaggy white coat. Looked like a yeti pelt but now resembles a bad perm as I tried to tumble-dry it. Tit.
3) Chris 34th – a four-day-old Tana with a gold ribbon on his head (for future reference, not my finest idea, sticking a bow to a baby).
4) Chris 35th – dinner at The King's Head, Bawburgh. Not the dinner but a wooden box with same gold ribbon on. Containing stick with blue line introducing baby India. Hadn't thought through implications of waving a wee-soaked baton around a restaurant but hey, everyone seemed happy for us.
I LOVE making or buying presents for people but I am not great at receiving them. For many years now I have had everything I need so I rarely need more stuff, especially the month before Christmas, when you get loads of stuff.
Successful gift ideas for Kate must be useful and cheap – current favourites include notelets, funky socks, luxurious toiletries. Or handmade – a note, a card, a cake. (Really? Did I turn 40 or 80 last week…)
Chris wanted to do something really special for my 40th so he arranged a night away without the kids with a meal at a fancy restaurant. Chris knows me better than anyone so he had booked us into a cheap hotel but when we arrived there was no room with a bath, and I had packed my scented candle and bubbles…
For the first time in my life, I suggested upping the budget and we ended up in a fantastic suite with a glass-walled bathroom, his and her sinks and roomy bath. We had champagne in the bath, a wonderful meal out and breakfast in bed at 10am. Sometimes it's just nice to treat yourself.
Best present this year, though? Sorry, babes, but it's Tana's homemade card with this message:
"Happy Birthday Mumy (sic). I love you and hope you have a lovely day. I love you so much I could explode with the love that I have for you. Love Tana (plus 49 kisses as he got a bit carried away)".
Priceless.
Filed under: Happy Coulson
Like this post? Subscribe to my RSS feed and get loads more!