Monday 27 May 2013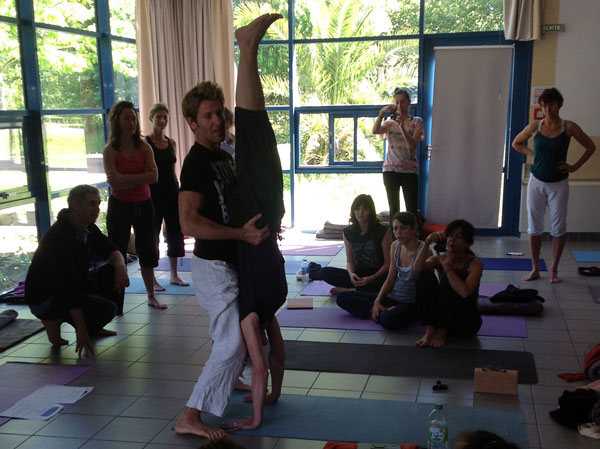 It's official – new friends are good for the soul. Spending time with like-minded people, even if it's just for a weekend, always fills me with fresh ideas and inspiration.
Just back from a wonderful weekend in Biarritz with the Guerilla Yogi himself, Marc Holtzman, and hosted by the lovely Rose Capagli (sitting, taking a photo), an Anusara-Inspired teacher like me. It was my first yoga training in French and could not have been more perfect. The sessions were taught in English and translated into French by translator and yoga teacher, Terence. For me, a week before I take my yoga to a wider French audience, it was manna from heaven. And around the frantic note-taking I also got to do some amazing yoga. Happy days.
I made some wonderful new yoga friends – from Belgium, Poland, France, Italy, Canada – and thoroughly enjoyed our bilingual conversations, flitting between English and French as if it was one language! Lunching on calamari tapas by the sea, I found it hard to believe I live just two hours away…
As with all good yoga courses, I came away filled with energy and fresh ideas. Perfect timing as next week I launch my new Happy Fitness timetable upon the good people of Maubourguet and surrounding villages. You can see the new timetable on the Happy Fitness page. Very exciting!
I am also making plans with a lovely new friend and fab Pilates teacher, Debbie Adams, who lives 40 mins away. We are busy planning the first of many Yoga/Pilates events for the local English-speaking community. Oh, and a final thanks to Thierry, who made everyone on the yoga course a CD of his group – Ocho Y Média. I have been listening to his incredible salsa/mambo/ska all day and can't stop dancing!
Filed under: Happy Coulson
Like this post? Subscribe to my RSS feed and get loads more!