May 2021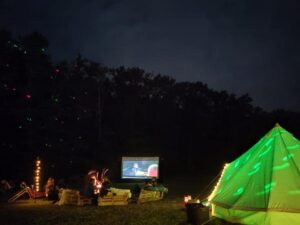 During May, France began to inch her way out of lockdown. We celebrated by streaming the Glastonbury festival onto a big screen in the camping field. There were some technical difficulties in the UK, but this just meant we had time to enjoy our own music and dance like loons around the fire.
Early summer parties are always exciting as it signals the start of better weather and months of outdoor fun. But this year, it was even more important as it coincided with the lifting of lockdown and curfew rules. There was a real feeling of rediscovering something we had forgotten we had lost.
Here's hoping the perfect unfolding can now begin in earnest. But we'll roll with the punches and ride the waves. Obvs.
Filed under: Happy Coulson
Like this post? Subscribe to my RSS feed and get loads more!