March 2022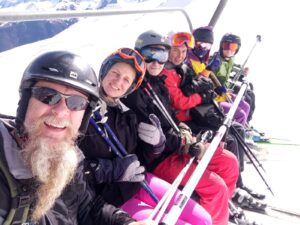 Skiing in the Pyrénées was one of the reasons we moved here, and our annual week in the mountains is always a highlight. This year was a bit different as when I went to book our usual apartment in Argelès-Gazost, I was told it was already booked. The owner usually contacts me to give us first dibs, so at first we were horrified. But we've been skiing in the same valley for nine years now, so this was just the encouragment we needed to spread our wings. We started looking in the next valley, near to our favourite spa, and also extended the invitation to our friends. We ended up booking a gite for three families, near to a big ski station that Chris and India had tried during the Christmas holidays.
Despite a general lack of snow and some mediocre weather conditions, we all had a brilliant time. The kids loved having other teenagers to race, and I was relieved and delighted with the performance of my still recovering broken ankle. Leaning a shinbone decorated with metal into the front of a plastic ski boot (something you MUST do if you want to move at anything faster than a gentle slide) isn't the most comfortable thing, but, thanks to some clever padding, it was very doable. And I'm hoping it will be even more comfortable next winter, when I will have had the metalwork removed.
As soon as we had unpacked and put away our skis, I was off again! This time to the UK on my own, for a long-awaited Yin yoga teacher training. I like to do some form of training every year, but Covid put paid to that. I was just about to do a French Yin training in the Dordogne when the first lockdown hit, having fallen in love with this slow yet intense form of yoga while suffering from Lyme disease. I had painful, swollen joints and was too exhausted to do my usual dynamic yoga practice. Yin yoga helped immeasurably, and not just physically. I have been teaching it ever since because of the physical, mental and emotional benefits.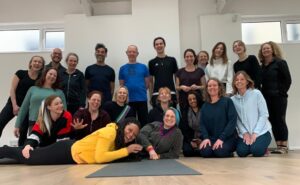 When I researched Yin training in the UK, Norman Blair's name kept coming up, and this training just happened to be in my favourite part of London. This was Norman's first in-person training for more than two years, so it was already special. Add to that the exceptional teachings of Norman and his team, and the other beautiful souls on the course, and my cup was already running over. But I had also underestimated the pure, unadulterated joy of being on my own in London, staying first in Hampstead, then in Crouch End, with dear friends I haven't seen for years. I am nourished.
Filed under: Happy Coulson
Like this post? Subscribe to my RSS feed and get loads more!