Friday 7 October 2016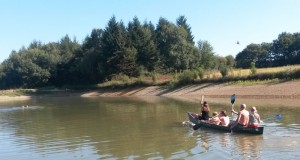 We've had a funny couple of weeks. Last Saturday cost us thousands of euros after our canoe capsized (pictured, just before), killing Chris' new phone and sunglasses, and our truck fell into a ditch and had to be towed to the garage for costly repairs. Less expensive but equally irksome was cutting the chewing gum out of Tana's gorgeous curly hair, and cleaning someone else's child's vomit out of the grooves in our bathroom wall at 3am. On my knees by the toilet with a toothbrush (an old one) in hand, I chuckled to myself at the run of bad luck. But I didn't feel unlucky.
Then on Wednesday I receive the dreaded phone call: "Mum, come quick. Dad's had an accident". Luckily it was no-school-Wednesday and Tana was with Chris on his pool-cleaning rounds when he fell on a metal pole and into the pool. Tana helped him out and rescued the phone on which he called me. The phone held out until I arrived, which took a while as Tana didn't know where they were so sent me to the wrong village. But he didn't panic, just walked to find some road signs and directed me in before running back to check his father was still breathing. Chris was taken to hospital, blue lights a-flashing, where x-rays showed there was no damage to lungs or heart, just fractured ribs and some very impressive bruising.
This coming hot on the heels of our 'samedi de merde', lots of people have said how unlucky we are at the moment. But I don't feel unlucky. Not one bit. I feel blessed. It's been costly, irritating, time-consuming, and, for Chris – now and for a long time to come – painful. But that is all.
Filed under: Happy Coulson
Like this post? Subscribe to my RSS feed and get loads more!