Infos / News
La Rentrée – lundi 4 septembre
Pas de cours:
Du lundi 18 au vendredi 22 septembre (urgence familile)
Du lundi 2 au vendredi 6 octobre (retraite de yoga au Maroc)
Du lundi 23 au vendredi 27 octobre (vacances de Toussaint)
Du lundi 25 décembre au vendredi 5 janvier (vacances de Noël)
---
Nouveau système de paiement pour la Rentrée 2017-2018
New payment system for September 2017-2018
---
** NOUVEAU COURS A RISCLE / NEW CLASS IN RISCLE **
Jeudi 12h15-13h45
Dans la salle de karaté (à côté de l'Office de Tourisme)
A commencer le jeudi 7 septembre
Contactez Kate sur happycoulson@orange.fr
Thursday 12h15-13h45
In the salle de karaté (next to the Office de Tourisme)
Starts Thursday 7 September
Contact Kate on happycoulson@orange.fr
---
Yoga Assis et Debout à Labatut-Rivière


* S'étirer * Respirer * Méditation * Relaxation *
Mercredi 6 septembre
10h00-11h15
En français et anglais
10€/cours ou 270€/an (40 cours = 6.75€ par cours)
Contactez Kate sur
happycoulson@orange.fr
"Ce cours de yoga avec Kate est un moment magique de détente et de bien-être autant pour le corps que pour l'esprit. Les étirements effectués tout en douceur, combinés aux exercices respiratoires calment le système nerveux, le rythme cardiaque et apaisent l'état mental. La capacité de concentration est stimulée et la souplesse de tout le corps revient rapidement. Les exercices enseignés peuvent aussi être facilement reproduits chez soi."
---
Seated and Standing Yoga in Labatut-Rivière 
* Stretching * Breathing * Meditation * Relaxation *
Starting Wednesday 6 September 10h00-11h15
Classes taught in English and French
10€/drop-in or 270€/year (40 classes = 6.75€ per class)

"This class is excellent for people with problems with knees and backs. It is pitched just right so as not to cause pain though it also works me hard."
"This class provides a unique opportunity for those of us a little less able to get down onto the floor. The meditation and relaxation is very enjoyable, and I think we all leave with a sense of wellbeing, and positivity. I find our Wednesday mornings extremely beneficial, physically, spiritually and linguistically!"
"After breaking my wrist I was nervous about returning to my regular class so Kate suggested I try this group. I thought that sitting on a chair would be very limiting but it is excellent (and we do not sit on chairs all the time)."Contact Kate on happycoulson@orange.fr
---
---
THE ULTIMATE ENERGY BITES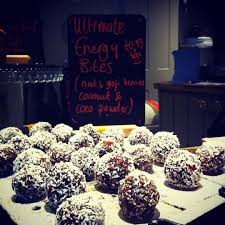 Makes 20 balls (boulettes)
400g medjool dates, pitted (dénoyauté)
200g almonds (amandes)
2 tbsp (cuillères à soupe) chia seeds (graines)
2 tbsp almond butter (beurre aux amandes)
2 tbsp coconut oil (huile de noix de coco)
4 tbsp dessicated (desséché) coconut
4 tbsp raw cacao powder (cacao en poudre)
Place the almonds in a food processor. Blend for 1 minute, until the nuts have crumbled. (Mixer les amandes dans un robot culinaire pendant 1 minute).
Then add the remaining ingredients plus 2 tablespoons water. Blend for another minute until a sticky dough forms. (Ajouter tous les ingredients et 2 cuillères à soupe de l'eau et mixer pour faire un pâte collante).
Use your hands to roll the mixture into little balls, (Rouler en boulettes et en noix de coco desséché si vous voulez).
Freeze for one hour then store in airtight container in the fridge.
(Mettre dans le congélateur pendant une heure, et après dans une boîte au frigot).
---
Yoga Retreat with Kate in Morocco
** COMPLET **
Sunday 1-8 October 2017
A week of yoga, wonderful  food and trekking at the amazing Kasbah du Toubkhal in the Atlas mountains.
Prices from £800 including all yoga, meals, accommodation, guided walks and transfers from Marrakech.
More details on the booking form at Roro Retreats.
Instruction in English and French.
Je fais une retraite de yoga à maroc en octobre. Les cours seront en anglais et français.
---
Namaste [nah-mah-stey]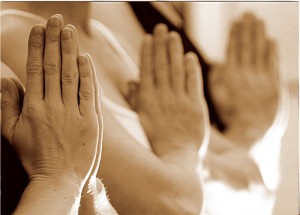 Question: "On dit 'Namaste' à la fin de chaque cours de yoga. Pourquoi?"
Réponse: Je dis souvent que pour moi le mot signifie la gratitude – gratitude vers mes profs, vers mes élèves pour leur énergie et leur effort, et vers moi.
Mais comme Laurence Gay dit: "Merci est un mot puissant, mais Namaste couvre un registre plus large, celui de la reconnaissance de l'autre comme étant soi.
"Définition de Namasté : Mon âme salue ton âme. En toi, je salue cet espace où réside l'univers entier. En toi, je salue la lumière, l'amour, la beauté, la paix parce que ces choses se trouvent aussi en moi. Parce que nous partageons ces attributs, nous sommes reliés, nous sommes semblables, nous ne sommes qu'un.
"Ca fait vibrer, pas vrai? Dorénavant, je sais que vous ne regarderez plus les autres élèves et votre prof de yoga de la même manière quand vous adresserez le Namasté. Il se peut même que vous ressentiez un frisson de joie en plein cœur."
Q: We say Namaste at the end of each yoga class. Why?
A: I often say that for me, the word and gesture at the end of the class signifies a gratitude to my teachers, students and myself. But the literal translation is 'The Divine In Me, Honors The Divine In You'. I like this from Wendy Moore:
"I admit that sometimes I say Namaste instead of Whew! after a challenging class. And sometimes I feel silly and even a bit superficial saying a word with such reverence when I've so little knowledge of its origin and the culture from which it came. Most of the time, however, after a particularly good class I say it and feel the essence of Yoga: a connection to myself and the greater world." 
---
La Gym Instinctive de René Castagnon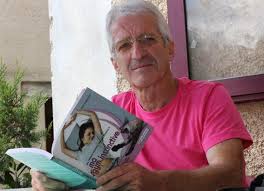 J'ai fait un stage de Gym Instinctive avec René à sa salle de remise en forme, Acunca, à Tourdun. René dit: "Inspirée des précautions prises par les animaux pour se préparer à l'activité, la Gym Instinctive est avant tout une gymnastique globale et préventive" qu'on peut faire au lit avant de se lever.
Je trouvais très intéressant et j'ai partagé quelques mouvements dans mes cours. Si vous voulez plonger plus profondément dans la Gym Instinctive, voir le siteweb ici, ou vous pouvez télécharger une application pour la faire chez vous.