Infos / News
Yoga avec Kate pendant le confinement
Je fais les cours suivants sur Zoom :
Lundi de 10h à 11h15 – Yoga Yin (doux mais intense)
Lundi de 18h à 19h45 – MJC* Yoga Yin 
Un mardi sur deux de 14h30 à 15h30 – MJC* Yoga Assis
(*pour les adhérents de la MJC de Vic-en-Bigorre)
Mercredi de 10h à 11h15 – Yoga Assis et Debout
Mercredi et jeudi de 19h à 20h15 – Yoga Forrest (yoga dynamique)
Pour 10€ par semaine, vous pouvez vous inscrire pour une séance en directe + les trois vidéos (yoga Yin, yoga dynamique/Forrest et yoga assis et debout).
Contactez-moi sur happycoulson@orange.fr pour plus d'infos.
---
Yoga with Kate during lockdown
I am now also offering yoga in English. We do a live two-hour workshop each month, usually the last Sunday of the month, and two live one-hour classes (day and time varies). I send you all the videos so you can redo the sessions, using the shorter classes as weekly or twice-weekly practices.
We do a mixture of Forrest (strong and dynamic), Anusara (alignment-focused and heart-opening) and Yin (gentle but intense) yoga. You choose the themes and content by telling me what you need/want. We are currently focusing on core strength and shoulder and neck tension.
Price plans:
Live workshop + video = £15
Monthly plan (live workshop + two live 60-minute classes + all videos) = £25
Contact me at happycoulson@orange.fr to sign up or if you have any questions.
---
---
---
Les techniques de base de Forrest Yoga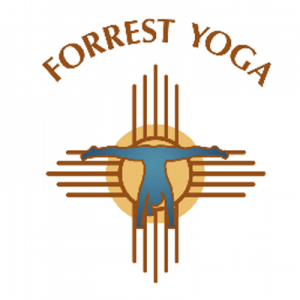 Je vous rappelle ici des techniques qui sont au coeur de cette pratique et pourquoi on les fait:
1. Respiration Profonde (écarter côtes basses)
= nettoyer et nourrir vos cellules, soigner vos blessures, trouver une légèreté et clarté d'esprit, connecter aux émotions
2. Pieds Actifs
= trouver votre fondation, vos racines, la stabilité, stimuler le système nerveux
3. Mains Actives
= faire bouger le sang et l'énergie dans les mains et les poignets
4. Descendre le Coccyx
= trouver de l'espace dans le bas du dos
5. Telescoper les Côtes (écarter et monter)
= augmenter la capacité de votre respiration, trouver l'espace dans le bas du dos
6. Rouler les Epaules
= trouver la force et l'alignement dans les bras et épaules, soutenir les articulations
7. Relâcher la Nuque
= ouvrir le cou pour faire bouger le sang et l'énergie à votre cerveau
8. Respiration Ujayi (le chuchotement)
= se calmer, soulager le système nerveux centrale
We are going over the Basic Techniques of Forrest Yoga, a style created by Ana Forrest, in class. We are working our Active Feet at the moment before moving onto Wrapping the Shoulders. Here are the basic techniques and why we do them:
1. Deep Breathing (expand lower ribs)
= cleans and nourishes cell tissue, heals tight spots, clarity of thought, serenity
2. Active Feet
= foundation, roots, supports knees, hips and back, stimulates nervous system, keeps you present
3. Active Hands
= Moves blood and energy through hands and wrists, good for carpal tunnel
4. Lengthen Tailbone
= decompresses lower back, uses buttock and belly muscles to support back
5. Telescope Ribs (expand and lift)
= increases breathing capacity, decompresses lower back
6. Wrap Shoulders
= builds strength/awareness in upper back, chest, arms, supports shoulder joints
7. Relax Neck
= opens neck for increased blood flow to brain, soothes nervous system
8. Ujayi Breath
= calms and steadies the mind, soothes the nervous system
---
Trois recettes 'Energy Balls'
AU CITRON
340g noix de cajou nature
340g noix de coco desséchée
Zeste d'un gros citron (et un peu d'orange si vous voulez)
Jus d'un demi-citron
1/2 cuillère à café d'extrait de vanille
Pincée de sel
2 cuillères à soupe de sirop d'érable
1 cuillère à café de miel (facultatif)
8 dattes medjool (coupez en morceaux)
Noix de coco desséchée  pour finir (facultatif)
Mettez les ingrédients dans un robot de cuisine dans l'ordre ci-dessus et mélangez. Ajoutez les dattes petit à petit.
Avec vos mains, roulez en petites boules.
Si vous voulez, roulez les boules dans la noix de coco desséchée.
A garder au frigo.
AU CHOCOLAT ET AUX EPICES
190g farine d'amande
190g noix de coco desséchée
1 cuillère d'huile de noix de coco
45g cacao cru
2 cuillères à soupe de sirop d'érable
2 cuillères à café de curcuma
1 cuillère à café de cannelle
1 cuillère à café de gingembre moulu
Pincée de poudre de piment
8 dates medjool (coupez en morceaux)
Graines de sésame ou noix de coco desséchée  pour finir (facultatif)
Mettez les ingrédients dans un robot de cuisine dans l'ordre ci-dessus et mélangez. Ajoutez les dattes petit à petit.
Avec vos mains, roulez en petites boules.
Si vous voulez, roulez les boules dans les graines de sésame ou la noix de coco.
A garder au frigo.
400g medjool dates, pitted (dénoyauté)
200g almonds (amandes)
2 tbsp (cuillères à soupe) chia seeds (graines)
2 tbsp almond butter (beurre aux amandes)
2 tbsp coconut oil (huile de noix de coco)
4 tbsp dessicated (desséché) coconut
4 tbsp raw cacao powder (cacao en poudre)
Place the almonds in a food processor. Blend for 1 minute, until the nuts have crumbled. (Mixer les amandes dans un robot culinaire pendant 1 minute).
Then add the remaining ingredients plus 2 tablespoons water. Blend for another minute until a sticky dough forms. (Ajouter tous les ingredients et 2 cuillères à soupe de l'eau et mixer pour faire un pâte collante).
Use your hands to roll the mixture into little balls, (Rouler en boulettes et en noix de coco desséché si vous voulez).
Freeze for one hour then store in airtight container in the fridge.
(Mettre dans le congélateur pendant une heure, et après dans une boîte au frigot).
---
Si je rate mon cours hebdomadaire

?

**Si vous ratez votre cours, vous êtes bienvenue sur un autre cours (sauf Lahitte car la salle est petite). Par contre, si je ne fais pas cours à cause de mes congés ou un jour férié, il n'y a pas besoin de rattraper**

What if I miss my weekly class?
**If you miss your class, you are welcome to come to another (except Lahitte as the room is tiny). However, if I miss a class due to my holidays or a bank holiday, there is no need to catch up**
---
Namaste

[nah-mah-stey]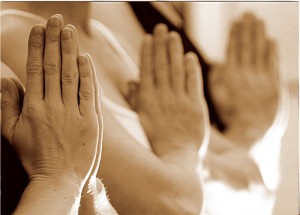 Question: "On dit 'Namaste' à la fin de chaque cours de yoga. Pourquoi?"
Réponse: Je dis souvent que pour moi le mot signifie la gratitude – gratitude vers mes profs, vers mes élèves pour leur énergie et leur effort, et vers moi.
Mais comme Laurence Gay dit: "Merci est un mot puissant, mais Namaste couvre un registre plus large, celui de la reconnaissance de l'autre comme étant soi.
"Définition de Namasté : Mon âme salue ton âme. En toi, je salue cet espace où réside l'univers entier. En toi, je salue la lumière, l'amour, la beauté, la paix parce que ces choses se trouvent aussi en moi. Parce que nous partageons ces attributs, nous sommes reliés, nous sommes semblables, nous ne sommes qu'un.
"Ca fait vibrer, pas vrai? Dorénavant, je sais que vous ne regarderez plus les autres élèves et votre prof de yoga de la même manière quand vous adresserez le Namasté. Il se peut même que vous ressentiez un frisson de joie en plein cœur."
Q: We say Namaste at the end of each yoga class. Why?
A: I often say that for me, the word and gesture at the end of the class signifies a gratitude to my teachers, students and myself. But the literal translation is 'The Divine In Me Honors The Divine In You'. 
Although this sounds rather serious and more than a little religious, I have slowly come to understand what this means for me. My practice of yoga on and off the mat has helped me appreciate that we are all perfect and unblemished at heart, as perfect as the day we were born. But life makes us forget this, just as we forget the sun during times of rain and clouds. But the sun is always shining.
To me, 'Namaste' is a reminder that we all have everything we need, and we are all the same, connected to each other, the world and the universe. So, 'Namaste' at the end of a yoga class can be a simple thank you, an appreciation, or a feeling of closeness with my students, the human race or the whole universe. It really is an amazing word and I will probably go on exploring its true meaning for the rest of my life!
---
La Gym Instinctive de René Castagnon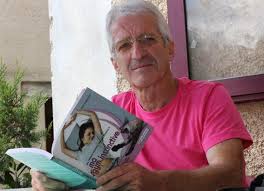 J'ai fait un stage de Gym Instinctive avec René à sa salle de remise en forme, Acunca, à Tourdun. René dit: "Inspirée des précautions prises par les animaux pour se préparer à l'activité, la Gym Instinctive est avant tout une gymnastique globale et préventive" qu'on peut faire au lit avant de se lever.
Je trouvais très intéressant et j'ai partagé quelques mouvements dans mes cours. Si vous voulez plonger plus profondément dans la Gym Instinctive, voir le siteweb ici, ou vous pouvez télécharger une application pour la faire chez vous.