Welcome to Happy Coulson / Bienvenue à Happy Coulson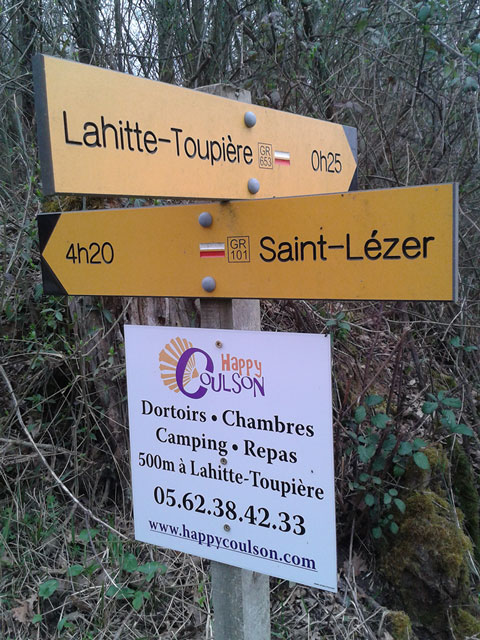 Happy Coulson is a peaceful and friendly home in Lahitte-Toupière, near Maubourguet in the Hautes-Pyrénées. We offer affordable accommodation for all budgets, with double rooms, a bunkroom and plenty of space for camping in our field and wood. Possibility of breakfast for group bookings.
Happy Coulson est un lieu paisible et convivial à Lahitte-Toupière, entre Maubourguet et Lembeye dans les Haute-Pyrénées. Le Chemin de St Jacques (GR653) borde notre champ et nous accueillons des pèlerins, des randonneurs, des cyclists, des touristes, des familles. L'ancienne maison qui remonte au 18ième siècle est entourée de forêt et il y a une piscine et une vue magnifique sur les montagnes. Nous sommes bien placée pour le Tour de France et des festivals comme Jazz in Marciac. On parle anglais et français. 
Facilities – large pool, wifi, walking paths, woods, views
The 1468km-long Way of St James  (GR653) takes walkers past our meadow on their way to Santiago de Compostela in Spain. We also get pilgrims who are following the GR101 to the holy town of Lourdes, where it joins the Chemin du Piemont (GR78) to run along the foothills of the Pyrenees.
Everyone is welcome – from pilgrims and walkers to families and fishermen, cyclists and bikers, to tourists and campervanners. Happy Coulson is well placed for the many local festivals, including the world-famous Jazz in Marciac and the Tour de France. We speak English and French.
————————————————————————————————————
Déstresser * Tonifier * Renforcer * Relaxer * Soulager le dos et le cou
Cours de Yoga à Maubourguet, Lahitte-Toupière, Artagnan, Marciac, Labatut-Rivière et Riscle. Cours collectifs, individuels, et pour les entreprises. Inscriptions toute l'année. Pour plus d'information, cliquez ici.
Unwind * Relax * Tone up * Get stronger * Ease your back and neck
Yoga classes in Maubourguet, Lahitte-Toupière, Artagnan, Marciac, Labatut-Rivière et Riscle. Group and private lessons and corporate sessions. Sign up all year round. For more details, click here.