Wednesday 23 November 2016
How we take and use photographs has changed dramatically during my lifetime. I remember fondly going to Boots to buy a 24 or 36 exposure film and choosing very carefully which Kodak moments to capture. Waiting a few days for your photos to be developed only added to the excitement of that very first viewing, often done right outside the shop as you just couldn't wait till you got home. From these images, a select few would be chosen to go into a photo album, to peruse whenever the mood took you.
I started taking digital photos at around the same time that Tana was born so I have no photo albums that feature my children. If I want to look at photos of my babies I have to sit at my computer. But that's ok. That's just how it is for now. I am looking forward to the day I have time to sift through the thousands of photos we have taken and organise them into old-school albums to thumb through into our old age.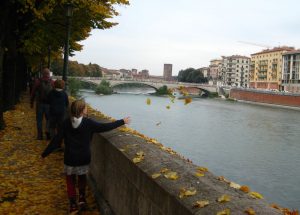 But while technology has undoubtedly changed some things, others remain the same. Looking through the photos I took on our recent family holiday to Italy, I realise that I am still using the camera in exactly the same way.
Most of the photos I take are of the backs of my family, without them even knowing that I have the camera in my hand. Taking a photo is like freezing time – my aim is to capture a feeling experienced there and then that I want to remember forever. I don't want to focus on the camera so a selfie stick is not for me. I take my photographs quickly and stealthily before getting back to the moment itself.
Filed under: Happy Coulson
Like this post? Subscribe to my RSS feed and get loads more!