Tuesday 29 March 2016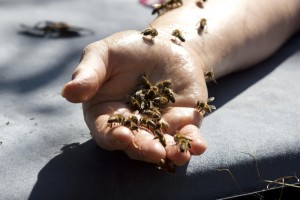 Bees rock. We all know how important they are for our planet and here in our tiny village in southwest France they are especially revered. We even have an organic bee farm that makes natural cosmetics from the honey, propolis and royal jelly. Ballot-Flurin also runs Yoga des Abeilles (Bee Yoga) courses, where people sleep among the bees and leave the static and stress of modern life behind, enabling them to get close to the bees without any protection.
I teach outside yoga for the staff and sometimes early morning yoga for the people on the Yoga des Abeilles courses. I have even been lucky enough to do a meditation with the bees and had them all over my bare skin. It was an amazing experience.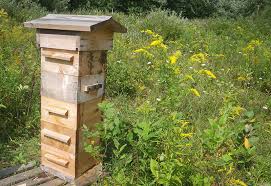 Now, thanks to a wonderful friend who is a natural beekeeper, we are on our way to harvesting our own Happy Honey. Julie has just started a new business helping homeowners set up their own hives. In return for helping her with English translations, as she would also like to offer the service to English-speaking expats, Julie is overseeing the installation of our first Happy Hive. We have chosen to use a Warré hive, which provides the bees with an environment that most closely replicates what they would have in the wild. We are ordering our kit and Julie is on the lookout for a swarm that would like to make Happy Coulson their home…
Filed under: Happy Coulson
Like this post? Subscribe to my RSS feed and get loads more!