Thursday 13 February 2014
Just waved off our first three guests of 2014. No pilgrims yet as the season doesn't start till March. No, this time it was three members of an Italian circus currently performing in the area. Apparently jugglers and clowns, although sadly we didn't see any evidence of either juggling or clowning.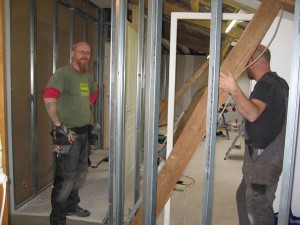 Not the best time of year to stay at Happy Coulson as we are currently building new rooms in the grain loft, right next to the dormitory. After driving from Italy yesterday and a show last night, the circus folk were hoping to spend a leisurely morning in bed. This plan was scuppered when builder Jim started sawing through the wall next door. The photo shows shows the view through the new hole – the clowns were trying to sleep in the room behind Chris. Perhaps no surprise they are not staying another night…
As you can see, building work is moving on apace and we can now see where the rooms are going to be. We are on track to have them ready for April – a good job as we have already accepted a booking from 14 Italian priests.
Bookings are starting to come in now, thanks to our listing in THE guidebook for the Chemin de Compostelle – Miam Miam Dodo. Loosely translated as 'yum yum, nap time', this book shows pilgrims where they can stay along the 936km route between Arles in France and Santiago de Compostella in Spain.
We are also taking bookings from people keen to share the excitement of the French summer. Packed with the usual fêtes and events, this year is especially exciting. In July, two stages of the Tour de France are starting very close, including one in our home town of Maubourguet. There is also the world-famous Jazz Festival in Marciac, perfect for families during the day and with babysitters on hand if you want to sneak out for the evening. Get in touch if would like to join the fun at happycoulson@orange.fr.
Happy Love Day for tomorrow.
Filed under: Happy Coulson
Like this post? Subscribe to my RSS feed and get loads more!