Tuesday 30 April 2013
There has been a steady stream of pilgrims calling in at Happy Coulson, unfortunately not all of them captured by us. After missing out on five in two days we now make sure we leave signs everywhere with mobile numbers and promises to be back soon.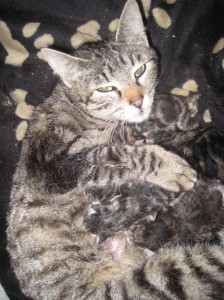 Numbers of pilgrims are down on previous years due to the unseasonably wet and cold weather. Happily, though, it's May tomorrow and I have been hearing this optimistic proverb all over the place: "En avril, ne te découvre pas d'un fil. En mai, fais ce qu'il te plaît". So fingers crossed next week we'll be doing just as we please and taking off all our threads…
Five visitors who have stuck around are the kittens born to Tinchy Stryper in the Happy Coulson shed. Now four days old, we will be doing everything we can to find them new homes but have been warned that it won't be easy as it is kitten season and everyone has some to give away. Hence why our other female cat, Gizmo, was taken to the vet this morning for her 'sterilisation'.
We also have our first French student, a charming 13-year-old called Claire, from Toulouse, who is staying with us for five days to improve her English. Tomorrow we're going to do some yoga together and plant the seed potatoes, onions and carrots in our new potager.
Filed under: Happy Coulson
Like this post? Subscribe to my RSS feed and get loads more!