May 2022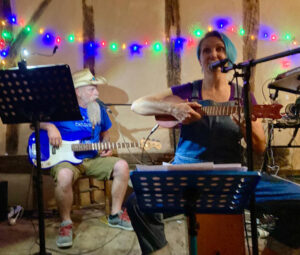 Spring turned to summer in May, with creative juices continuing to flow. We played another couple of gigs with Lamb Pancake, and I had my ukelele debut to Don't Worry, Be Happy. (Before you believe me to be some musical maestro, there are but three chords in the whole song).
La Guinguette du Petit Pont, an awesome hippy festival held beside our beautiful Adour river, made a very welcome return. A celebration of delicious local food, good company and live music, the highlight of the evening was a young dance duo on mixers, digeridoo, guitar and flute.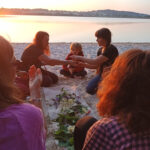 My lovely friend, Charlie Speller, hosted a full moon shamanic ceremony at Castelnau Magnoac lake on Friday 13th May. Far from scary, it was a wonderful mix of wild women, circle ceremony and skinny dipping, and the perfect preparation for my second yoga retreat at Santosha Yoga in Conilhac-en-Montagne, postponed for two years due to Covid. A heart and mind-blowing few days with 11 of my yoga students, my neighbour, Sylvie, who offered early morning Qi Gong, and, my friend, Paula, who pampered everyone with massage.
Filed under: Happy Coulson
Like this post? Subscribe to my RSS feed and get loads more!