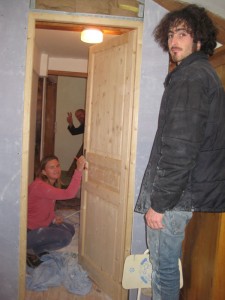 Ah, the wonderful sound of work. Today, sawing and hoovering upstairs as the workways put up a new wall and door between the family bedrooms and guest accommodation. It's going well and the door looks great so I have no idea why Seamus is looking so grumpy. Chris is in the smallest room in the house… tiling the pilgrims' toilet.
I taught two French fitness classes this morning and have another two tonight. First is the scariest class – Aerogym – a hardcore combo of aerobics and toning set to music. Teaching yoga doesn't require me to coordinate movement with a beat so I am finding it quite challenging.
Most days here we do something completely new, which requires us to do the best preparation we can and then just jump right in without thinking about it too much. Feeling the fear and doing it anyway. Try it!