April 2022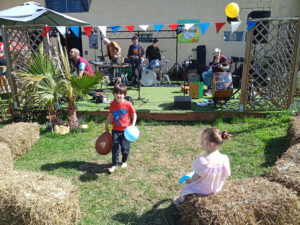 Spring well and truly sprung for us during April. Thanks to the lifting of most Covid restrictions, the world opened up. We were able to go out and about to restaurants and events, mask-free and tentatively embracing even strangers (with permission, of course). The spring weather also got our creative juices flowing, as we joyfully picked up our musical instruments after a period of hibernation.
One of the highlights was a mini-festival held to raise funds for the Maison des Parents at a hospital in Toulouse. It was one of the first warm and sunny spring days, and there was a great turnout of people doing whatever they could to raise money. We played our first Lamb Pancake gig with our dear friends, the Claydons, and our ecletic repertoire went down a storm. Best thing was, we were up first, so once we had finished, all we had to do was sit back and enjoy!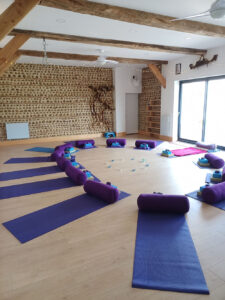 I was also inspired to put on my first ever yoga workshops in our beautiful Happy Coulson yoga studio, one of the many gifts of Covid. Fresh from my yin yoga training in the UK, I tentatively planned first one three-hour Sunday morning workshop. As it quickly filled, I scheduled another for the following Sunday. And another, the Sunday after that.
I'm two-thirds of the way through my trio of yin yoga workshops, and these are my findings so far. People are really keen to get out and get together, sharing and exchanging once more. Folk are also aware that they need to take time for themselves, to assimilate the effects of the past two years, and adjust to the new reality of a world with Covid in it.
People also seem more accepting of and invested in their own personal situations, and, as a result, more willing to take responsibility for their own progress. Maybe this is thanks to Covid, maybe it is thanks to a regular yoga practice. Who knows? And actually, who cares? It is wonderful to see and I shall be assuming that this is the new normal.
Filed under: Happy Coulson
Like this post? Subscribe to my RSS feed and get loads more!