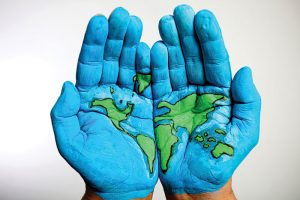 There aren't many people who are not talking or at least thinking about politics at the moment.  It's something that I usually try to avoid, despite being a BBC news journalist for several years. My total lack of interest in politics was noticed and disapproved of, especially as one of the five people I trained with was the brilliant and utterly lovely Laura Kuenssberg, now the BBC's Political Editor…
But there are moments when everyone needs to sit up and notice what is going on in the world. For me, it started with Brexit, then Trump and now concerns around Marine Le Pen in France. We have all seen the comparisons with what happened in Nazi Germany and while I know that we can't believe everything we read on Facebook, we cannot ignore the fact that atrocities often happen because people turn a blind eye.
Some of my friends think we should just accept that Trump is the president for the next four years. Others believe that as we are ok at the moment we should just keep quiet. No.
My mum always says: "Do as you would be done by". Treat others as you would like to be treated. Imagine fleeing war with your family. Imagine being persecuted for your peaceful beliefs. We have a responsibility to stand up for those who are being treated unfairly. We don't need to use violence, we don't need to rant or rave or throw stones. But we do need to stand up and be counted.